We all know her. We all love her. Daytime's most likeable personality. She's bold, she's sweet, she's creative, she's fun, but most of all she's got a sense of humor that would make anyone smile. And she sure makes us smile! So much so, that our gift experts had an "ELLEN" day. We searched high and low to seek out the most fun but practical gifts that even Ellen would love to give.
Fun But Practical Gifts (That won't break the bank.)
1. Customized Chocolate Bar ($4.50 and up) Chocomize

For any Choco-fanatics, this is nothing fancy, it's just fun. Where else can you customize your own chocolate bar through a creation station and pick as many ingredients as you want for your bar? There are 74 choices to be exact (we counted) and they include things like gummy bears, spices, coffee beans, herbs and potato chips. Ellen, this sounds like a great gift idea for your staff, but get Andy Lassner one with all 74 ingredients. (Because we all want to see his reaction!)
2. Magical Marshmallows ($20) Boomf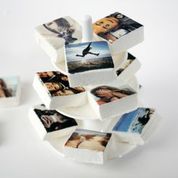 These make a lot of our lists, but for Ellen, tweeter of the world's most memorable selfie, we thought this could be the perfect edible canvas for her future endevors. She can pick the best (or worst) photos and have them printed right on delicious marshmallows as gifts for her friends. We don't recommend naked photos though because they don't actually show up as well. (cough..cough..)
3. Cards Against Humanity ($25) Amazon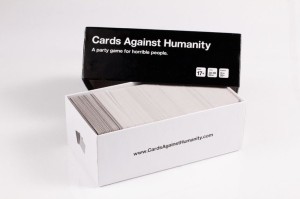 Okay…so we've played this, and it really is a game for horrible people. But it's for horrible people who love to laugh uncontrollably, so how bad can we really be? We were thinking if Ellen gives this as a gift to her friends, they'll invite her over to play it! And just maybe she'll invite us to come along since it was such a great gift idea! Don't believe this is a good one? Just ask one of the 12,805 reviewers on Amazon that gave it 5/5 stars!
4. Hip-hop Flow Chart ($29) Pop Chart Lab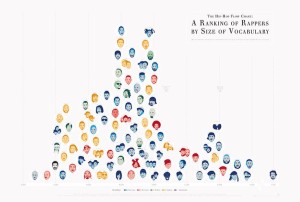 Ellen loves music. And she loves hip-hop too. So…we think this would be a great gift for Ellen to give to her hip-hop loving friends like her old pal DJ Tony. It's a poster that ranks trending rappers by the size of their vocabulary! How f-u-n-n-y! And if hip-hop's not your thing, Pop Chart Lab has a ton of other awesome charts to choose from. (We especially love The Many Shoes of Carrie Bradshaw's Closet.)
Fun But Practical Gifts (If you feel like splurging!)
5. Ostrich Pillow ($99) The Grommet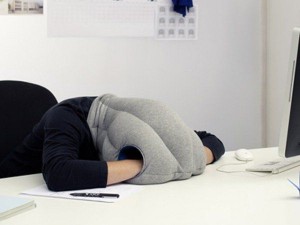 Back on our list by popular team vote is the Ostrich Pillow by The Grommet. We can't seem to get enough of this one and we know Ellen would love it too. Can't you just imagine Ellen on set, something goes wrong and when she walks back to the production room all of her folks are sleeping in the comfort of their own ostrich pillow? She can't blame them, as they were a gift from her!
6. Customized Shoes ($129 +) Shoes of Prey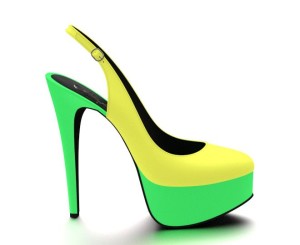 Now you know that you can customize chocolate, but did you know you can also customize shoes? Move over Carrie Bradshaw (see how we tied this all together?) because now you can give the gift of letting someone create his or her own shoe design and easily have them made and shipped to their doorstep. Full disclosure. Someone gave this to me as a gift and now I own amazing shoes. If Ellen invites me to her show, I'll wear them.
7. Flask bracelet ($225) Aha Life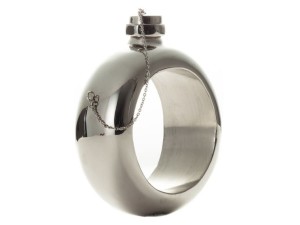 All of Ellen's celebrity friends are going to want one. I mean, it's a necessity! They just pick their poison and have a place to keep it cool on a hot day! It's the classiest version we've ever seen and makes a great gift!
We are Lily&Strum, a small company that knows how to find gifts. To have us help you with your gifting organization and to provide you with your very own customized recommendations sign up for your free account here. Seriously, we are not joking. It's totally FREE! We just LOVE doing it.
To discover more great sites and products, follow us on Twitter, Facebook, Instagram or Pinterest. Happy gifting!