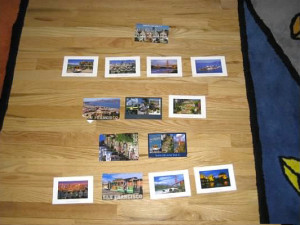 Every company has a story behind it. Here's ours.
I'll be the first to admit, I am one lucky lady. Women were envious and men were resentful of all the thoughtful things my husband Joe (fiancé at the time) did to make our long distance relationship work. Okay men don't throw up. Ladies, you'll love this.
(All of these postcards arrived from San Francisco over a few days and I had to piece the message together.)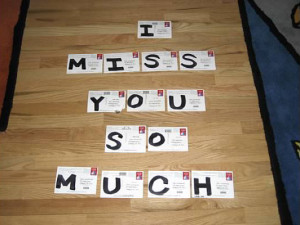 So you can see. He's good. But I've got hundreds of stories. It got to the point where if one of our friends' or colleagues' significant others would do something nice for them, it was branded "a Joe thing." (Cue opportunity light bulb.)
While we couldn't clone Joe, we went to work brainstorming ways we could help men be more thoughtful. The deeper we went, the more we realized that it wasn't just men who needed us. The fact is that most people mean well and have good intentions, but when it comes down to it, they're just too busy to take action, they forget, or they just lack inspiration.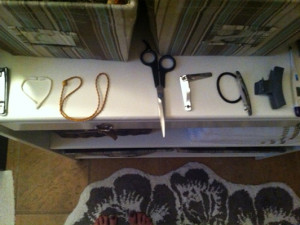 (Good use of household bathroom products and what a nice surprise to wake up to!)
We envisioned a gifting platform that could track all the people and occasions in life that needed to be celebrated; one that could offer timely reminders and tailored recommendations, so you'd never miss a moment and always get it right.
And that's how Lily&Strum was born.
With development well underway and a passionate team behind us, we are on a mission to help everyone become the great gifter they always wanted to be. No more occasions sneaking up on you. No more endless searching. No more mediocre gifts.
Request and invite for a beta. Go ahead, they'll love you for it.
Sincerely,
Traci (& Joe)