Whether she's your girlfriend, sister or best friend, our 2014 Holiday Gift Guide For Her has some great gift ideas for any budget.
Holiday Gift Guide for Her: Under $25
1. Black Leather and Gold Card Case, $24 Great.ly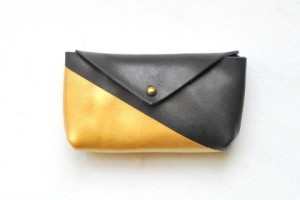 This little handmade pouch is great for stashing extra business cards or using as a small wallet. Hey…we are in Steeler's Country after all.
2. Binchotan Facial Puff, $15.50 Amazon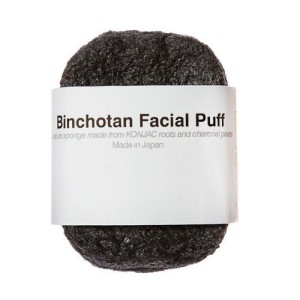 We still can't pronounce it, but we love Binchotan charcoal's amazing cleansing properties. This puff is made from the roots of pure vegetable fiber and microfine charcoal powder. It exfoliates, moisturizes, cleanses and balances the skin's pH levels. Can her washcloth do all that?
3. Horse Lid Daylily Candle, $22 Scoutmob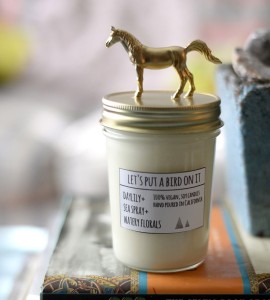 I'm sorry but I love getting candles as gifts. I never buy them for myself, but I always appreciate having them around the house. Find one with great packaging and an even better smell and you're golden…just like the horse on this lid.
Holiday Gift Guide for Her: Under $50
4. iPhone Case, $32 Etsy
These cases are little works of art…literally. The gorgeous original designs are meticulously hand-painted by Pittsburgh artist and illustrator Ashley Cecil. Her designs are also available in pillow and infinity scarf form.
5. Raw Mark Mug, $28 Recreation Center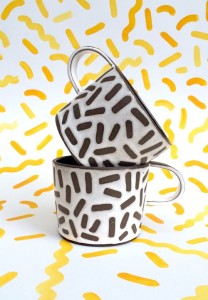 Handmade out of rich dark clay, the mug is then dipped in white glaze leaving the raw marks exposed. All we know is that she'll love drinking her morning coffee out of it.
6. Charity Watch, $40 1Face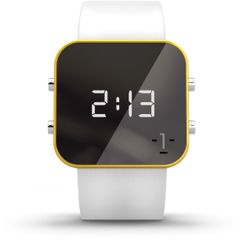 1Face supports 9 causes including hunger, cancer, water and education. Each cause has a specific metric to tell you what you've supported. Give her a stylish watch and support her favorite cause at the same time. Win, win.
Holiday Gift Guide for Her: Under $100
7. Small Spells Collaboration, $65 Morris Kitchen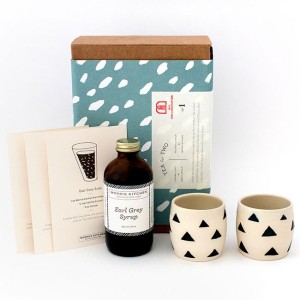 Little surprises in great packaging. Unique gift sets do all the work for you. I've tried some of Morris Kitchen's other syrups and they are just delicious. Throw in some adorable little cups made by ceramic artist Small Spells and we'd call this limited edition set a gift she's sure to love.
8. White Dash Scarf, $92 Koromiko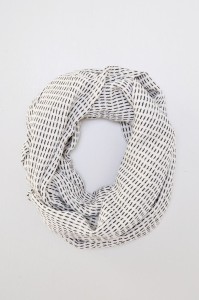 If she's like me, she can never have enough scarves. Once the weather turns they are the must have accessory. Handmade by Japanese artisans this lovely one is light enough to wear all day.
9. Echo Touch Fringed Gloves, $88 Echo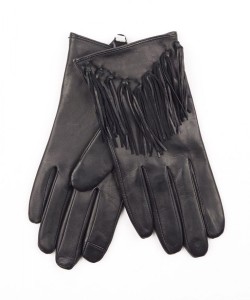 Alright…so fringe isn't for everyone, but if its her style I think these touchscreen sensitive gloves will be a big hit. If it's not her style, not to worry. Echo has a million other designs in their Glove Shop that are equally as fashionable as they are functional.
Holiday Gift Guide for Her: Under $200
10. Drifting Leaves Necklace, $148 Terrain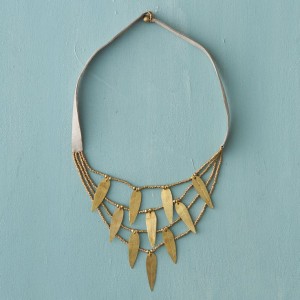 Jewelry can be tough, but when you get it right its so satisfying. This gorgeous piece from Terrain is delicate while still making a big statement. It's definitely a winner in my book.
11. The Taplin Purse, $119 Shelter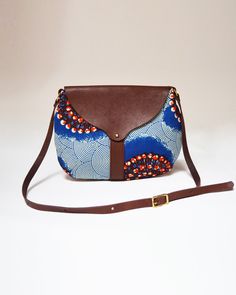 I had the pleasure of meeting the woman behind Shelter and she is as lovely as her bags. This great design comes in a whole variety of colors and patterns, but this one is by far my favorite.
12.  UGGpure Alena Slipper, $119.95 Nordstrom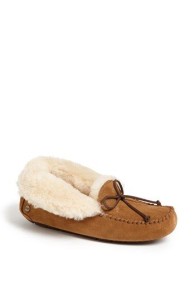 I know this isn't the most original gift idea, but a nice pair of slippers is so luxurious. Also I want these for Christmas…hint hint family.
So there you have it. A dozen ideas to get you started. To get customized recommendations, sign up for your free account here. There's still plenty of time to find her the perfect holiday gift! And stay tuned for more 2014 Holiday Gift Guides, this is just the tip of the iceberg.
To discover more great sites and products, follow us on Twitter, Facebook, Instagram or Pinterest. Happy gifting!