I don't know about you, but I love shopping for babies and toddlers. It's hard to go wrong with adorable. For our 2014 Holiday Gift Guide For Babies & Toddlers I tried to find some unexpected gifts that will really surprise and delight the little ones in your life…and their parents.
Holiday Gift Guide For Babies & Toddlers: Newborn
1. Baby Shark Slippers, $34 Uncommon Goods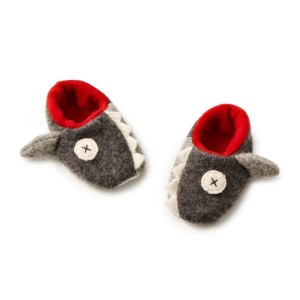 Get your little one ready for shark week early. These are just too cute for words.
2. Zipit Baby Playsuit, $42 The Grommet
Baby will thank you for the easy in easy out nature of this suit.
3. Pirate Pig Organic Farm Gift Set, $29.95 The Corner Stork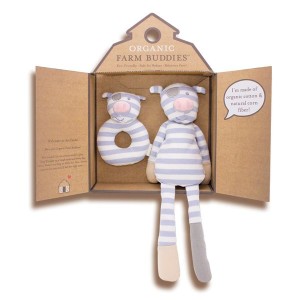 Why this pig is also a pirate I'm not sure, but I find him and this little gift set totally adorable.
4. Maple Wood Teethers, $16 Atomic Garden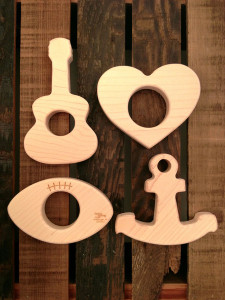 Super simple and all natural, a tree is even planted for each one sold! Awwwwesome!
Holiday Gift Guide For Babies & Toddlers: Age 0-2
5. Wood Hamburger Set, $28 A+R Store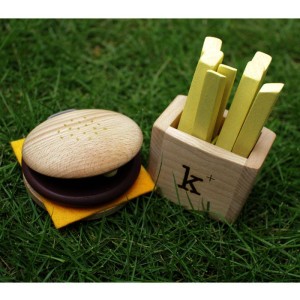 These are just fun. What kid doesn't want a burger and fries?
6. Rainbow Sound Blocks, $44 Uncommon Goods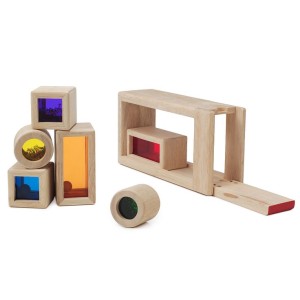 This neat set of blocks is a puzzle, musical toy and sculpture all in one.
7. Knuffle Bunny: A Cautionary Tale, $15.29 YoYo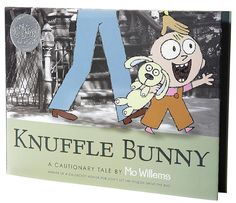 My sister is a children's librarian and she introduced me to this great kids book. Its' got fantastic illustrations and a story any kid can relate to. Be prepared to read it over and over and over…
8. Sherovelo, $119 Fat Brain Toys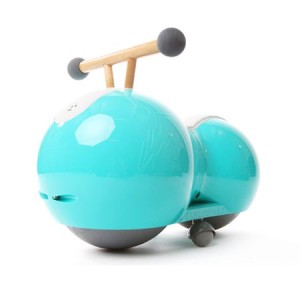 A riding toy for the youngest riders! Parents will love the modern design, kids will love how it glides along the floor on balls instead of wheels.
Holiday Gift Guide For Babies & Toddlers: Age 2-4
9. Wooden Doctor Play Set, $35 Uncommon Goods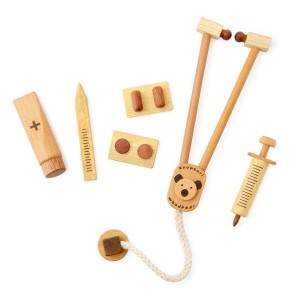 Wooden toys are the best. They just have such a classic feel to them and really inspire the imagination. I hadn't seen a wooden doctor set until this one and I think any toddler would love it.
This little guy is from a cool design shop I recently discovered. I just love his bright color and friendly face. Bell is sure to become a new bff.
11. Kidsonroof Cardboard Rocket, $70 Acorn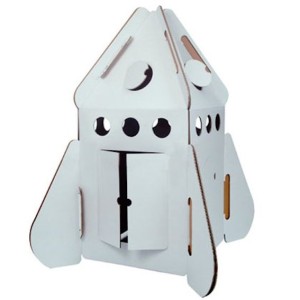 Kids can decorate this rocket ship with their own designs and tote it around themselves with no problem. Outer space here we come!
12. Giant Piano Mat, $80 Sharper Image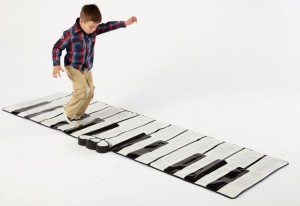 Just like from the movie BIG! I always wanted one of these as a kid. Engaging in so many ways, they're sure to get hours of enjoyment with this fun gift.
So there you have it. A dozen ideas for babies and toddlers to get you started. To get recommendations customized just for your little one, sign up for your free account here. There's still plenty of time to find him or her the perfect holiday gift! And stay tuned for more 2014 Holiday Gift Guides, this is just the tip of the iceberg.
To discover more great sites and products, follow us on Twitter, Facebook, Instagram or Pinterest. Happy gifting!